Toni -k
Toni is a self taught visionary artist who began painting while living in Germany, but it wasn't until moving to the Mojave Desert that her true artistic abilities and her paintings came alive.
Toni describes the harmonious blend of color and texture in her art as "visionary." "All of my work comes from visions I see. I see them in my mind and transfer them to canvas."
And the result is nothing short of extraordinary. Toni's work will take the viewer far beyond the physical world, into a world that can stir the soul.
Now Toni is a resident of Florida and the change of climate, along with the ocean air, has opened new paths and inspired new works that can be seen in the recent works pages.
Toni-K
All my art has been copyrighted.
If you would like to use my art for backdrops or wallpaper
Please e-mail first.
All pieces displayed on the site are avaliable for purchase (unless labeled as sold). Please enjoy your visit and feel free to sign my guest book.
If you are interested in purchasing, or would like to view my work in person, please contact me through my email address on the contact page.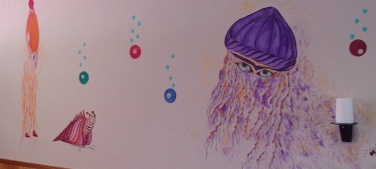 Jellyfish
I am expanding into murals in Florida now. This is a piece of mural I did this last month in a pool hall. Check out the mural page it's new.